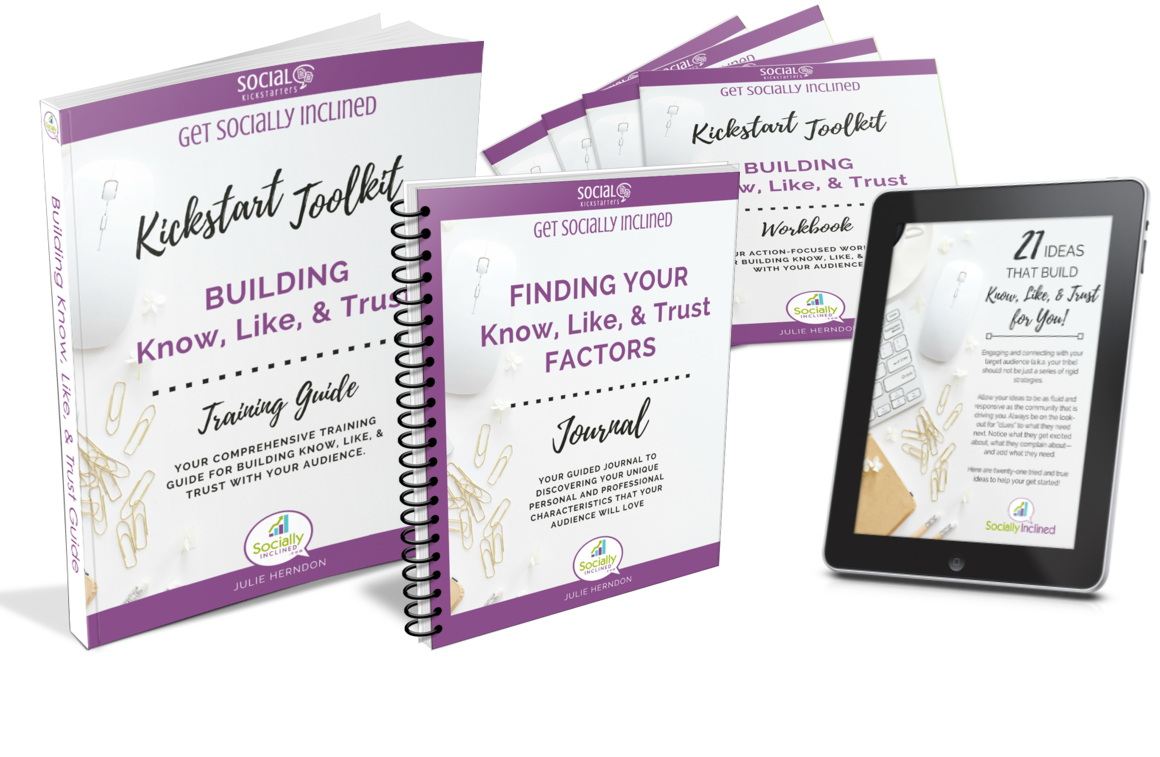 Why do you need to BUILD KNOW, LIKE & TRUST for Business?

There are more people on Social Media than ever… It is hard to stand out and keep people spending their time with you... the difference is in the relationship you build with each and every follower!

Some call it networking... we call it relationship building! And whether you like it or not, your business depends heavily on your ability to build relationships.
Think about some of the brands, bloggers and public figures you love the most… chances are that you have some sort of connection with them, whether that means getting to know the people personally, or sharing a core belief with them.
When you create a connection with your audience, you set yourself up for loyalty that can last for years. Even better than that, a real connection means that your customers will turn into raving fans who happily share your website and product recommendations with others!
There are a number of specific ways available to you to connect with your audience, from email to your blog and social media. In this toolkit, we give you the tools you need to overcome any road block you may have, create a plan, and take action that creates real connections and a thriving community built around you and your brand.
DON'T LET YOUR CUSTOMERS SLIP AWAY!
Introducing the Get Socially Inclined Toolkit for Know, Like & Trust!

What you will learn:
How to give your audience what THEY want and connect with them on a more meaningful level.
How much you have to put yourself out there to be successful, and what to do if you truly can't,..
How to be better at transparency
How to connect with your readers through amazing emails.
How to build a loyal following through your blog and other social media sites.
How to Identify Your "Zone of Genius", play to your strengths, and down-play your natural weaknesses - we all have them!
How to Challenge Your Own Assumptions and get rid of the self-imposed "road blocks" that keep your from success.
How to share your story in a way to give your business real traction.
21 INCREDIBLE ways to start Building Know, Like, & Trust from the moment of your purchase.
Plus, a whole lot more…
What's included?

Building Know, Like, & Trust Training Guide
Building Know, Like, & Trust Workbook & Checklist

21 Ideas to Start Building Know, Like, & Trust Right NOW
Finding Your Know, Like, & Trust Factor: Discovery Journal & Planner

Building Know, Like, & Trust Checklist (see curriculum below)

Building Know, Like, & Trust BONUS GUIDE (see curriculum below)

Our Toolkit for KLT is comprehensive for growing your Know, Like, & Trust Factor, but feel free to look around our store for our great image sets, and monthly (industry specific) planners to help you really pair down the time you spend building your social media presence. Paired with the Socially Inclined Dashboard to schedule and automate your social media marketing, our content shortcuts, can grow your online presence in 60 minutes a month.
We appreciate your ideas and feedback and would love to know what works best for your industry and how you have adapted the ideas to fit. Any feedback you can share will help to improve future products. :-)