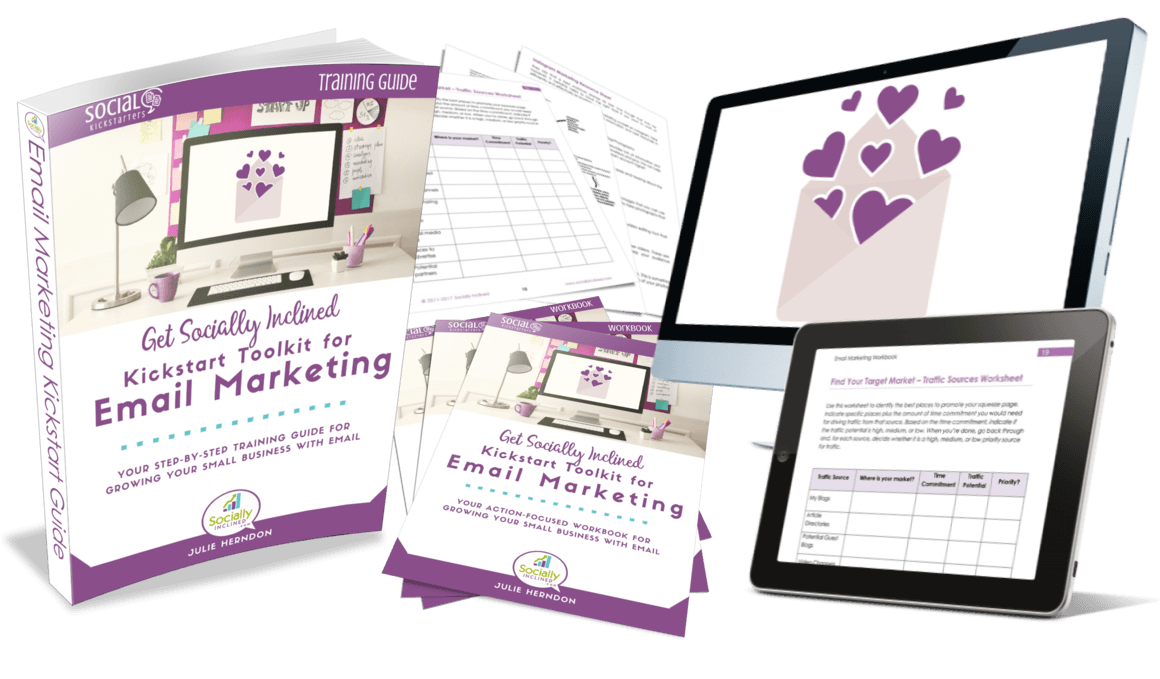 If you are running a small business, online business, or network marketing business you might have thought about using email to get your message out... are you making the most of it?
*****************************************************************
Why you need to make the most of Email Marketing
*****************************************************************
Fast – You can literally reach hundreds or even thousands of targeted people with just a click of your mouse
Affordable – You can get started building a list and sending emails with little to no marketing budget

Trackable – With simple click-tracking, it's easy to see who clicked on what with email marketing

High Returns – Email is low cost, has high engagement, and the result is a MASSIVE return on your time and money investment… email marketing is PROFITABLE!

Not to mention… Email Is Big And Getting Bigger…

Enter our Socially Inclined Email Marketing Toolkit!




*****************************

Here's what you will learn!
*****************************
Inside This Comprehensive Toolkit, You'll Learn…
4,300 reasons why you should be using email to market… (This will shock you!)

Why email marketing is even better than marketing with Facebook and driving traffic with SEO…

How to use email to get in front of your customers 24 hours per day…

The right way to structure your first email marketing campaign, and how to start making a profit right from the get-go… even if you've never seen success with email before…

Why you need an autoresponder to get the best results, the top 3 options that provide the best quality autoresponder service, and a chart that compares the prices of all 3… (You can get started with 2 of them for $1 or less!)

The importance of a list and how to start getting targeted subscribers as soon as today!

Why sometimes having a small, targeted list can make you MORE money than a massive list…

Why making it easy for people to unsubscribe is not only compliant with the law, but how it can put more money into your pocket…

The top 3 traffic sources for building a targeted email list quickly, and which method you should be focusing on in the beginning…

People don't just give you their email address for no reason… How to ethically bribe people to hand over their email address so you can sell to them over and over again…

Building a list is just part of it… How to engage your subscribers and make them raving fans that are EXCITED to get emails from you and ultimately BUY!

Why you don't need to write super long emails and why sometimes shorter converts much better…

The often-asked question of "how often should I email my list" is answered…

The words you should NEVER include in your emails to get past the SPAM filters and get the highest delivery rate possible…

Why your online reputation matters, how to keep it intact, and how it can destroy your business if you mess it up…

The 3 times you should delete subscribers from your list, and why deleting these 3 groups of subscribers will actually put more money in your pocket…

6 simple strategies for quickly growing your subscriber list to 10,000 subscribers and beyond…

How to setup the perfect autoresponder sequence that sells 24/7… making you money even while you sleep…

Selling products and services isn't the only way to monetize your email list… discover additional, more creative ways to send emails and PROFIT!
This is the most complete, up-to-date guide for profiting with Email Marketing available online today!

*******************************
*******************************
Email Marketing Training Guide
Email Marketing Cheat Sheet
Email Marketing Resource Guide
Our Toolkit for Email Marketing is comprehensive for growing your business using email, but feel free to look around our store for our great image sets, and monthly (industry specific) planners to help you really pair down the time you spend building your social media presence. Paired with the Socially Inclined Dashboard to schedule and automate your social media marketing, our content shortcuts, can grow your online presence in 60 minutes a month.
We appreciate your ideas and feedback and would love to know what works best for your industry and how you have adapted the ideas to fit. Any feedback you can share will help to improve future products. :-)